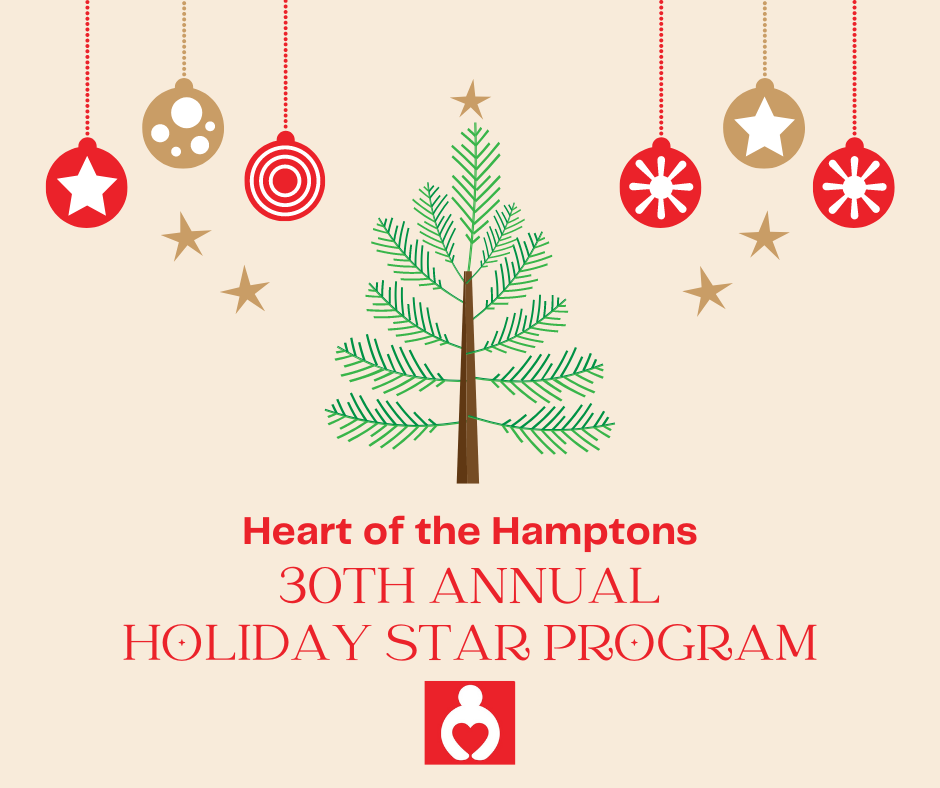 For 30 years hundreds of Southampton residents have picked up a Holiday Star, generously displayed at businesses and churches and donated a gift for a local child. Each star has an item that is being requested to be donated i.e., Boy 8 – toy or Girl 2 – toy.

We are delighted to partner with the First Presbyterian Church at 2 South Main Street, where parents are invited to come and "shop" for their children so they can feel the joy of giving!

Each year, we have provided more than 1,000 toys to local kids. This past year, we also gave children pajamas, books, hats, gloves, and family board games.

If you are interested in helping us with this effort, email robin@heartofthehamptons.org.
Stars are displayed at the following locations:
27 Hampton Salon

Channing Daughters Vineyard

Dime Bank – Sag Harbor

Dormition of the Virgin Mary Greek Orthodox Church of the Hamptons

Emporium Hardware – True Value Sag Harbor

First Presbyterian Church Southampton

Fowler's Garden Center

Hildreth's Home Goods

John Jermain Library

La Carezza

North Sea Hardware

Our Lady of Poland

Page Restaurant

Pellegrino's Pizza Bar and Restaurant

Rogers Memorial Library

Sen Restaurant

Soul Cycle Water Mill

Southrifty Drug

St. John's Episcopal Church

Stevenson's Toys

Stony Brook Hospital

The Basilica Parish of the Sacred Hearts of Jesus and Mary

The Children's School

The Wharf Shop

United Methodist Church Southampton

* list in formation

A huge thank you to all of the businesses and churches involved!